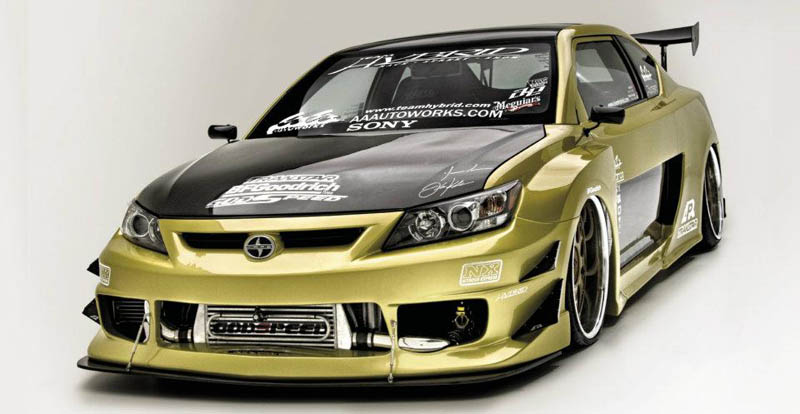 Project Build
As the Founder/President of Team Hybrid since 1995, James Lin, who led, innovated and built his way to be the first to the accolade of 1st place champion of Scion's SEMA Team Tuner Challenge xA in 2006 and also, to be the first person to win 1st place champion back to back at Scion's SEMA Team Tuner Challenge xD in 2007. Naturally, being King of the Scion Tuners is the only option going into the invitation-only 2010 build off of Scion's SEMA Tuner Challenge tC competition. This year, James is building the all new re-designed 2011 Scion tC. Since there aren't any commecially available parts, he needed to innovate, project direct and outsource the development of parts as one-off pieces while relying on loyal sponsors.
The foundation of the design process was his philosophy of building clean, innovative cars that can win at the race-street-show. James attributes this multidisciplinary approach as the primary reason Team hybrid has become legendary in the tuning industry and main reason why Scion selected and asked him to compete for the third time. The customized one-off look must withstand the test of time as well as keeping up with today's import tuner standards and trends.
But most importantly, the car needs to appeal to how Scion markets its cars to their customers, which is the mass market and not just one genre of the industry. Lastly, his 2011 widebody / carbon fiber tC needs to be an overall winner that can compete at all levels and types of competition whether at an event purely for show, performance-based and/or both. A 2011 Scion tC that is the best of both worlds and can be best of class year-after-year is what James believes makes a national champion caliber Scion SEMA Tuner Challenge-worthy vehicle.
Modifications
Powertrain
Mishimoto radiator
Mishimoto fan shroud with fans
Mishimoto red vacuum / cooler lines
Mishimoto race thermostat
Custom Turbo kit by Frankie Klepadlo of Team Hybrid
God Speed gt2876r T28 turbo charger
God Speed Type M front mount intercooler
God Speed / custom intercooler piping
God Speed anodized "Gold" blow off valve
Custom chrome manifold
Custom chrome down pipe
DC Sport air filter
Denso 550cc injectors
Nology Spark plugs (one step colder)
Walbro 250 lph fuel pump
KOM Automotive oil cooler kit
(2) NRG ground wire system
NRG oil catch
NRG voltage stabilizer
NRG carbon fiber engine damper
NRG carbon fiber hood damper
Nitrous Express intercooler spray system with purge (2) bottles
Polished engine valve cover
Polished TRD oil cap
Password: JDM gold aluminum washers and 10mm bolts
Dry Carbon wrapped fuse box cover
Stinger compact size battery (relocated)
Motul radiator fluid
Motul 300V CHRONO 10W-40 "Double Ester Technology" racing oil
Custom mix Transtar Gold engine bay by AA Autoworks
Chassis/Suspension
Wheel / Tire
DPE custom R16 wheels (gold finish w/ polished lip)
Front 20 x 8.5, -15 Offset with 3 1/2" lip
Rear 20 x 10, 0 Offset with 4 1/2" lip
Project Kics extended neo chrome lug nuts
BFGoodrich Tires g-Force T/A KDW:
Front 225/30/20, Rear 245/30/20
Suspension
Air Lift Air Suspension
Front struts Prototype double bellows air over struts with Air Lift proprietary upper mount and bracket design.
Rear bags Prototype 2B5 double bellows air spring with weld on upper brackets and billet aluminum lower mounting nut.
Control system: Air Lift "Autopilot" Full digital, four corner control system. Auto leveling function. 3/8" air lines.
5 gallon tank.
Compressor: Viar 380c heavy duty compressor with integral check valve.
TRD Big Brake Kit
4-piston caliper (ST-41 caliper designed specifically for the 2011 Scion tC)
340x25mm, one-piece 16" AeroRotor
Street performance brake pads
DOT-compliant stainless steel brake lines… Motul RBF 600 DOT 4 racing brake fluid
Exterior
One off K1 wide body kit by
One off carbon fiber hood (AIT Racing)
One off carbon fiber trunk (AIT Racing)
Custom hand laid carbon fiber on door inserts, rear quarter panels and front fenders
Custom Sparco fuel cap non-locking brush
Custom door handles (keyless remote entry button pops doors open)
Shaved antenna
Shaved windshield wipers
Shaved door handles
Shaved side view mirrors (relocated to front fenders)
Show Off HIDs 6000k HID kit
AIT Racing carbon fiber front bumper splitter
AIT Racing carbon fiber rear bumper splitter
APR splitter rods
APR front bumper carbon fiber canards
APR GT carbon fiber side mirrors
APR GTC 300 carbon fiber rear wing
Custom mix Transtar gold paint
Interior
(2) Sparco Fighter Seats
(2) Sparco Harness 4PT Camlock
(2) Sparco Harness Pads
Sparco Steering Wheel 325 Suede
Sparco Fast R Shift Knob
Sparco Stripe STD Pedal Kit
Sparco Hand Brake "Drift"
Sparco Track Set Sliders
Custom seat brackets
NRG 3.0 quick release
NRG short hub
NRG wheel lock
Broadway rear view mirror
Art's Custom full suede / carbon wrap with gold stitching interior
Custom mix Transtar Gold painted interior accents
Audio
Sony 7inch Double DIN XNV-770BT A/V receiver w/ navigation (Prototype Unit)
(4) Sony 12inch XS-LD126P5 subwoofers
(2) Sony 15inch XS-L156P5 subwoofers
(4) Sony XM-ZZR3301 Class D mono amplifiers
(2) Sony XM-ZR704 4 channel amplifiers
(2) Sony XS-GTX1621S components
(2) Sony XS-GTX1641 co-axial speakers
(4) Sony HVM-H65 6.5inch monitors
(2) Sony XA-R800C rear view cameras
Sony Bravia EX3 32" LCD TV
Sony BDP-S370 Blu-ray player
Sony DASH personal internet viewer
Stinger RKX36B sound damping material
Stinger TRUE-SPEC tinned Oxygen-free copper line wires and cables
(3) Stinger compact size batteries (SPV20)
Stinger power supply
Custom alternator upgraded from stock 75 amps to 150 amps
LED ultra white lights
Megatronix poppers and keyless remote entry system
Customized and fabricated in fiberglass painted in custom mix Transtar Gold / carbon wrap multimedia audio and video system by Al & Ed's Autosound, Northridge
Misc.
Lin Family
Team Hybrid Family
Hybrid Hunnyz
China Square Restaurant
Mishimoto
BFGoodrich
SONY
Meguiar's
Wraptivo
NOS Energy Drinks
Sparco
NRG
Transtar
APR
Motul
TRD
AIT
Stinger
God Speed
Nitrous Express
Air Lift
DC Sports
DPE Wheels
Scion
Publications/Accolades
Performance Auto & Sounds "Cover" April/May 2011 Issue
Motion Sport Compact Auto Show & Expo "Cover" 2011 Show Guide
PAS Nation & PASMag.com Calendar Poster
Scion LA Auto Show Booth 2010
Scion National Ad 2011
SONY Mobile Audio International Ad 2011
SONY's CES Booth 2011