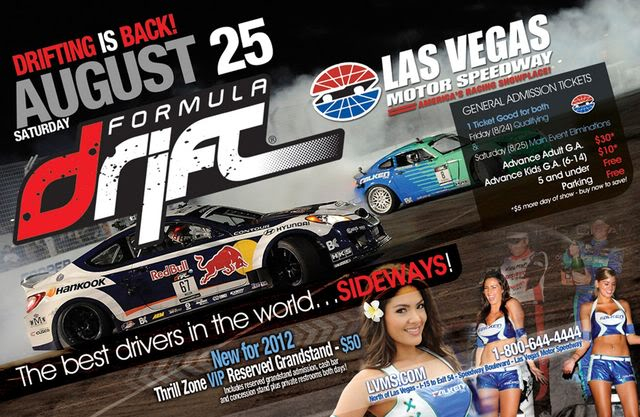 Team Hybrid will not only be present @ Formula D Las Vegas – 08/24-25/12, Round 6 but will have 5 Hybrid Cars in company booths, "x" amount of Hybrid Cars from SoCal/LV Chapter in the regular car show and 3 Hybrid Hunnyz representing & modeling.
Formula DRIFT Slides into Sin City – 4pm
The world famous Las Vegas Motor Speedway plays host to Formula DRIFT. The "Diamond in the Desert" is just outside the Vegas Strip and has hosted events such as NASCAR, IndyCar, NHRA and more recently Formula DRIFT.
Team Hybrid's Final Details:
4 Hybrid Cars willl be going into NOS Energy Drinks Booth so congrats to:
1. Daniel Spielman 350Z (SoCal Chapter)
2. Tom Milroy WRX Wagon (LV Chapter)
3. Keoni Viernes EVO IX (LV Chapter)
4. Reggy Cunanan EVO X (LV Chapter)
1 Hybrid car will be going into the AEM Booth so congrats to:
1. Allan Mortel S2K (LV Chapter)
Hybrid Hunnyz, 3 will be in attendance & modeling:
1. Kimmie Lee (SoCal Chapter)
2. Tonia Lopez (SoCal Chapter)
3. Lillian Kong (LV Chapter)
There will be various other Hybrid Cars in attendance and showing in the regular car show plus Chapter Directors Archie Concon and Scott Dean will be present as well to help and answer any questions. Have another great show guys.
Another great opportunity provided by Hybrid Management.